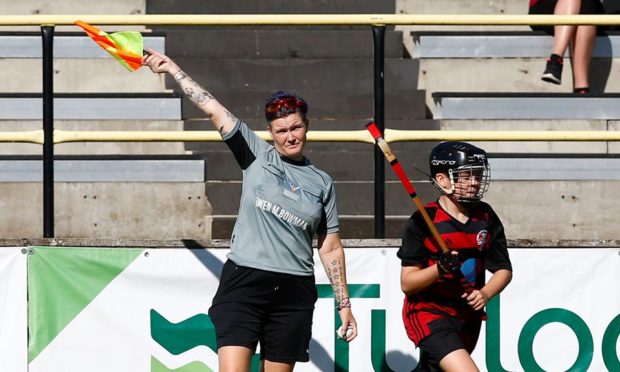 Recognition of the "amazing contribution to shinty" by an "ambassador of the sport" who became the first woman to officiate at a Camanachd Final was highlighted at the full Highland Council yesterday.
Tina Marshall, 44, from Kiltarlity, has been "breaking boundaries in women's shinty for years as a player, a coach and as an official", according to local councillor Emma Knox.
Tina became the first ever woman to officiate at the Camanchd Cup Final in September – on two occasions as the first was abandoned due to flooding in Fort William.
Miss Knox said: "I wanted to say a few words to recognise the achievements of one of my constituents, Tina Marshall, and to celebrate her amazing contribution to shinty.
"The week after the Camanachd cup final, Tina was a goal judge at the Strathdearn Cup final. Another milestone."
Tina's "illustrious shinty career" has spanned four decades, including playing for Strathglass Ladies, Lovat and Inverness. She won the Challenge Cup with Strathglass and also a League and Cup double.
The councillor added: "I think Tina would say she is most proud of her role as a youth coach, helping to ensure the future of shinty.  "She has coached youth teams in Inverness, Kiltarlity, Kirkhill and still coaches the Lovat Youth team.
"She coached at my local Primary School in Kirkhill and I have seen the fantastic rapport she has with the young people. She is held in great affection by the players and parents alike.
I'll just round off this wee tribute with Tina's own words. After the Strathdearn Cup final, Tina posted on Facebook: "Another week…. Another final.
"I don't care about my role, as long as Shinty is the winner. I've got so much from this awesome sport, as a player, supporter, coach, mum and now as an official.
"There's so many girls and women I know out there who could do the same."
Following the speech, there was a massive round of applause from within the council chamber.
Mum-of-eight Tina said afterwards: "This was very humbling, obviously. Shinty is shinty, but I love being an ambassador.
"I don't stand alone in that. There are some inspirations women and girls out there."