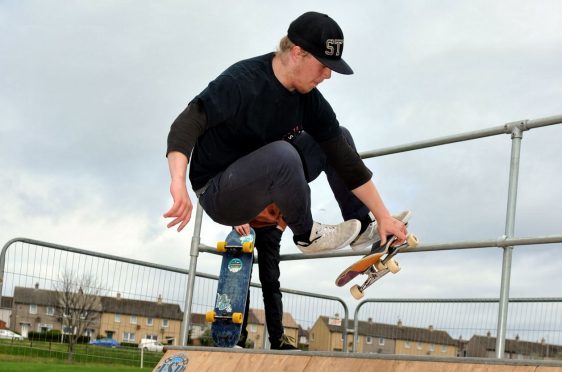 Dozens of skateboarders have sampled the slopes that could soon become a permanent feature in a Moray town.
Enthusiasts want to set up a permanent skate park at Lossiemouth's Coulardbank playing fields.
A group aiming to fulfil the £150,000 dream is expecting to submit a bid to the council at the start of next year to lease the land.
And in order to strengthen their case they set up a temporary skatepark at the town's community centre at the weekend to show the demand.
More than 50 youngsters performed tricks on boards and scooters throughout Saturday – only stopping when the ramps had to be covered to stop them getting wet in the rain.
While the sun shone, teenagers grabbed their boards while appearing suspended in the air among an array of other stunts.
Donald Peace, chairman of Lossiemouth Skate Park Initiative, was delighted with the "excellent" support shown for the ambitious project.
He said: "Everyone who came down was really positive about it.
"There was a good mix of teenagers and young kids there as well – the little ones were using their scooters instead of skateboards.
"We have to show there is an interest in it. This is all part of the community consultation we have to go through as part of the
application to the council."
The temporary ramp, which was loaned from Forres Skate Park Initiative, will be back in Lossiemouth as part of the town's Seafest celebrations in July.
Anyone wanting to join Lossiemouth Skate Park Initiative should phone Mr Peace on 07818 238781.