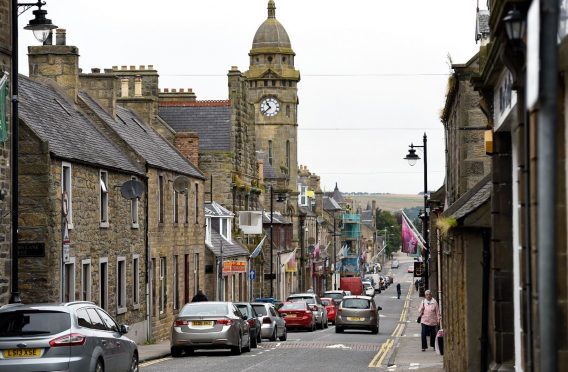 Bar staff said a man became like a "raging bull" after he became violent while drinking at a Moray pub.
Francis McEllin was staying in Keith while working in the area and visited the town's Commercial Hotel on Saturday, June 24.
The 33-year-old from Liverpool appeared at Elgin Sheriff Court yesterday, where he was fined £550 for a string of abusive behaviour that night.
The court heard that McEllin and another drinker began "glaring" at one another over a disagreement – and things spiralled from there.
Fiscal, Kevin Corrins, said: "At about 11.45pm they came together for a physical altercation, and it took two men to pull them apart.
"A member of staff said the accused was 'like a raging bull' as he was being removed from the bar."
Mr Corrins said that the police were called 20 minutes later, when McEllin reappeared at the door of the venue.
He said the accused "barged into" barmaid Adele Davidson, pushing her against a table, and cracked an internal door.
The court heard that he was arrested as he shouted out challenges for a fight and threatened to further damage the bar.
McEllin, of Anglezak Close in Liverpool, later admitted to conducting himself in a disorderly manner by engaging in a fight "with a person unknown", refusing to leave the pub when asked and committing a breach of the peace.
He also accepted a charge of behaving in a threatening or abusive manner by attempting to force entry to the building, colliding with Ms Davidson and "repeatedly" challenging people to a fight and threatening to damage the property.
A third charge of recklessly destroying property belonging to another was accepted, as was one of refusing to give police personal details – for which McEllin was admonished.
McEllin defended himself from the dock, and attributed his behaviour to "the drink" and "a misunderstanding".