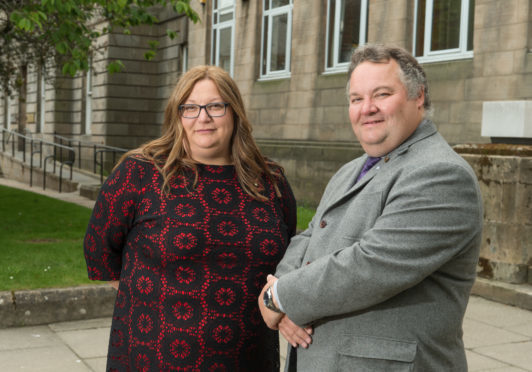 Moray Council's new administration has vowed to "shout" to make the region's voice heard across the country.
After two weeks of limbo following a Conservative walkout, it took just three minutes yesterday to ratify the SNP taking control of the cash-strapped council.
While in opposition, nationalists repeatedly tabled proposals to streamline the authority's management structures and implement initiatives to generate more income.
Now Graham Leadbitter, who was installed as council leader during yesterday's talks, has insisted the group will follow-through on the manifesto pledges.
And the Elgin City South councillor has pledged to put the region's best attributes at the centre of the approach in an attempt to ease recruitment crises across various sectors – including in teaching and the NHS.
He said: "There's clearly a job of work ahead. We will be having discussions with the council's management team immediately and will be expecting to see progress quickly.
"We will have to take a pragmatic approach but also a positive one. The financial position is well publicised. It's clearly critical we balance the budget in February and we will be speaking with council officers immediately about the challenges."
Mr Leadbitter added: "We are also in a region that has an enormous amount to shout about and we will do that shouting.
"This an exceptional place to live and work and we will be positive about Moray, positive about our council and positive about the future that it is our job to shape."
Chief executive Roddy Burns chaired yesterday's meeting of the full council to decide the leadership of the authority.
The SNP's proposals were waved through unopposed in the chambers with councillors in unanimous agreement of the change.
It means the group is now in control of the council for the first time since 1999's elections, when an independent administration rose to power.
The new SNP minority administration is comprised from only nine of the 26 members within the chambers.
However, yesterday, outgoing leader George Alexander pledged to support the group on areas where they can work together.
The independent Forres councillor said: "I'm amazed I lasted as long as I did. I thought I would be gone by Christmas. I only stepped in because the two main parties wouldn't talk to each other.
"I wish the SNP well. I have no interest of simply getting in the way to make life difficult for them."
Labour councillor John Divers, leader of the Moray Alliance Group, which is also made up of three independent councillors, said: "There's a lot of common ground between myself and the SNP, particularly with our social policies.
"I believe they will try to retain as much of the council's workforce as possible, which was a concern I had with the previous administration. They seemed to be driven by a cuts agenda with little concern about the consequences."
Mr Leadbitter added: "In the last couple of weeks we've had good conversations with Labour and independent councillors. We believe this is a good foundation."