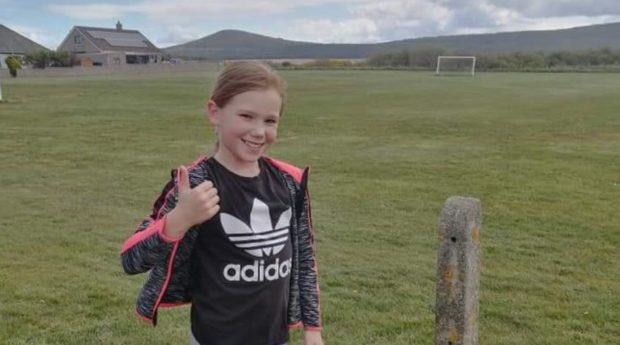 A primary school pupil from Moray has raised more than £1,700 to help children affected by coronavirus by running laps of her local playground.
Lola Toogood, who lives in Portessie, set herself the challenge of completing 100 laps across 10 days after being moved by the global pandemic.
The 10-year-old has is due to complete the total 25-mile distance later this week having already smashed her initial fundraising goal of £150.
The youngster says she has been thinking of the troubles facing children across the world while completing her daily exercise outside Portessie Primary School.
Mum Lisa, who works for Parklands Care Homes in Buckie, said: "Lola decided to raise money to support families and children in need during the Covid-19 pandemic.
"She feels very lucky to be able to have the little luxuries in life and wanted to help those families and children who are less fortunate."
Money raised by Lola will be donated to charity Cash for Kids. Parklands Care Homes has agreed to match the total raised by the youngster to boost the fundraising total further.
Managing director Ron Taylor said: "Lola has been an inspiration and we are all very proud of her. Cash for Kids is a fantastic charity that works hard to support vulnerable kids across the region and we are delighted to support Lola's fundraising challenge."