Hogweed warriors reclaiming ground lost across north and Moray to invasive plant during lockdown
By
David Mackay
July 1, 2020, 6:36 am
Updated: July 1, 2020, 9:08 am
Hogweed warriors fighting to keep the invasive plant at bay across the north and Moray have warned coronavirus has curtailed efforts to win back ground this year.
Activists across the region had hoped to limit the spread of the hazardous growth during the summer.
However, lockdown restrictions have instead given giant hogweed an opportunity to spread further as it grows unchecked.
This week a team from the Findhorn, Nairn and Lossie Fisheries Trust suited up to tackle plants that towered above head-height in Elgin.
Bob Laughton, who is the group's biologist and director, said: "Since the conditions have been relaxed we have been able to get out and about a bit more over the last month.
"It looks like we're going to be able to get it back to where it was last year, but we're not going to be able to make the progress in the difficult spots we had expected.
"We're into a fairly critical couple of weeks now because the plant is just about to come into flower, if you can catch them know then you can knock them back quite a bit."
Work already done by the trust means people can now access parts of the banks of the River Findhorn which were previously out of bounds.
Giant hogweed can prove hazardous if its sap comes into contact with human skin, causing it to come out in a rash or blister.
Dog owners have also been warned to keep their pets away from the plants amid concerns they could hurt themselves if they get too close.
The plant was first introduced to the UK in the 19th Century as an ornament but now grows out of control at the expense of other species, with some flowers producing up to 20,000 seeds.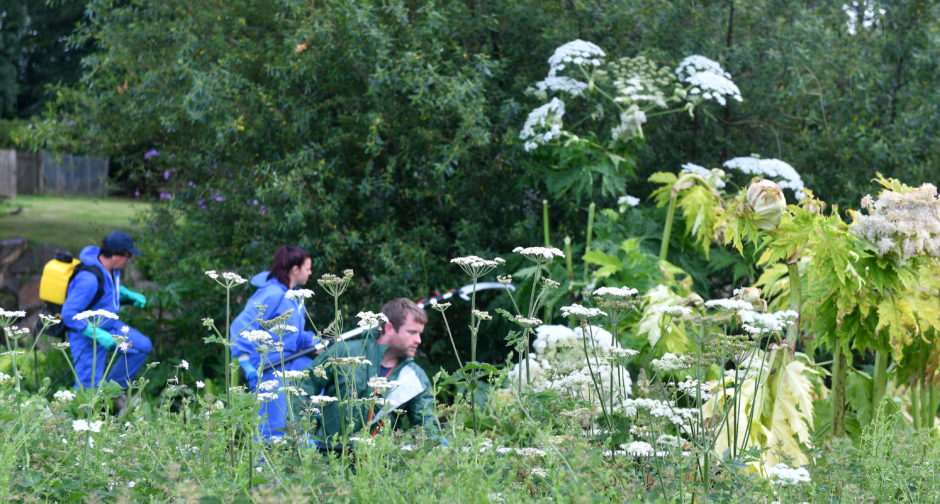 Elsewhere, sheep are being used on the River Deveron near the Macduff distillery to control the spread due to the animals being able to eat them with no ill-effect.
Karen Muller, the Scottish Invasive Species Initiative's project officer, said: "Tackling giant hogweed isn't for the faint-hearted and isn't for everyone.  Wearing protective gear is essential and specialised training is required to use pesticides safely.
"But, hopefully, there are control methods, such as cutting flower heads, digging of roots, mulching or use of barriers in gardens or grazing with animals in larger spaces that might work in people's own hogweed situation and circumstances."