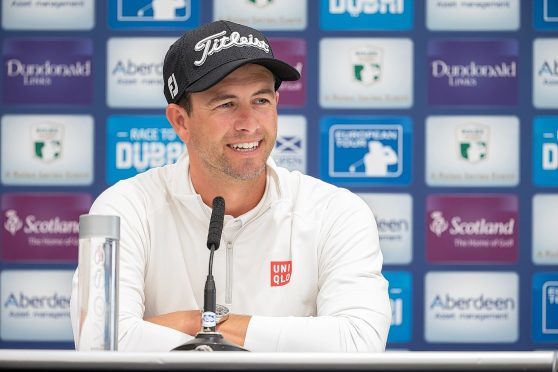 A trip to Royal Aberdeen gave a 16-year-old Adam Scott his first real taste of links golf and the Aussie hopes a rare appearance in this week's Scottish Open will make him ready to finally get his hands on the Claret Jug.
The 2013 Masters champion, who is teeing it up in the Scottish Open for the first time in eight years, is relishing the different challenge he faces at Dundonald Links over the next four days and at Royal Birkdale next week.
He said: "We don't play golf on a links at all anymore on the PGA Tour and the adjustment is tougher than you think.
"In the past I have come over ten days before to play the Open venues and that has worked.
"But with a slight schedule change, I felt I needed to play in a tournament so coming to the Scottish Open ticked both boxes.
"This week at Dundonald, I'll be trying a few shots that I don't normally play.
"I was used to playing in the wind from Australia but I was about 16-years-old when I took my first trip to Scotland to play some junior tournaments and do a bit of a tour around all the great courses.
"I started up north and played Royal Aberdeen and then St Andrews, Carnoustie, Gleneagles, a tournament at Loch Lomond, Western Gailes, Turnberry, Troon and Prestwick.
"I instantly enjoyed the challenge of something I had never really seen before.
"Although we have courses by the ocean in Australia, they are not really true links courses like over here. I really enjoyed that right from the start and have tried to embrace it."
Scott is looking for his second victory in Scotland – 15 years after running away with the Scottish PGA Championship at Gleneagles by 10 shots.
He said: "I can still remember the night out afterwards so it can't have been the best night ever.
"But I remember a lot about that tournament, and maybe to this day it's the best golf I've ever played in my career. Winning a tournament by ten shots at Gleneagles doesn't happen very often.
"Everything just fell into place for me and I was playing out of my mind a little bit.
"I remember I went out with Brett Rumford and Scott Gardiner, another player on tour, that night.
"We flew back down to Surrey where we were all staying at the time and we went out for a few that night. They were good times."
Scott's preparations for next week's Open are already well under way with the Aussie spending four days at Royal Birkdale before travelling north to Dundonald Links.
The 36-year-old has recorded five top-10s at the Open and looked all set for victory at Royal Lytham and St Annes in 2012 before bogeying the last four holes to finish second by one shot behind Ernie Els.
Scott said: "Birkdale is looking fantastic, as you would expect. It's always nice to play an Open championship venue with no one on the golf course.
"It's a real treat and I like to take advantage of that.
"But now I'll shift my focus to the tournament here.
"Winning the Scottish Open would certainly be very nice on the resumé."