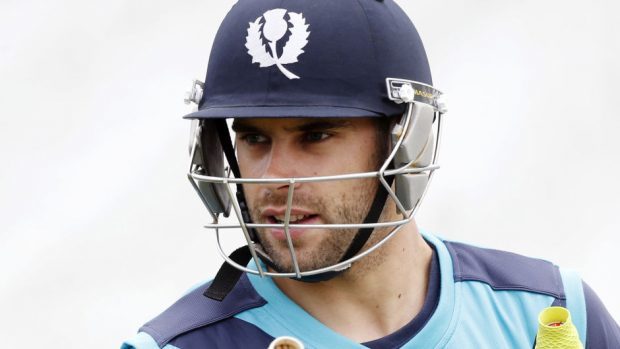 Kyle Coetzer knows that the clock is ticking on every sports star's career once they reach 34.
Yet, the Aberdeen-born Scottish cricket captain retains his boyish exuberance for the pastime he has graced on the global stage for the last 15 years.
And, as he prepares to fly out to the Middle East with his compatriots for a groundbreaking tour next week, he is sending out the message he can't wait for Oman.
Given the excitement generated by last summer's exploits, whether in famously defeating England, or winning a Tri-Series, while coming so close to qualifying for the World Cup, Coetzer's joie de vivre is understandable.
But he recognises his team must sustain that form when they lock horns with Ireland, The Netherlands and Oman in the coming weeks, as they strive to advance their case for becoming ICC Full Members and gain the opportunities that status brings.
Coetzer said: "The last 18 months have been successful for us, but we need to make sure that we keep that momentum going and don't rest on what we've achieved and think that's good enough.
"It is only the starting point as far as we're concerned. We need to keep developing and push our team further and further up the ranks.
"Full Member status is something that has been in the media a lot recently, with Ireland and Afghanistan achieving it.
"We know that we've been hot on their heels over the last couple of years and we need to continue in that trend in the future.
"Full Member Status is hugely important – it's something we need to keep aspiring to get to and be part of the so-called top tier.
"Becoming Full Members will allow us to play more cricket which, no doubt, will have an impact on cricket in Scotland, all the way from the grassroots up.
"It is obviously a place all teams want to get to, and we hope to be next."
Coetzer has been one of his country's most prolific run-gatherers in every form of the game and scored a magnificent 156 at the last World Cup against Bangladesh. But he sets himself lofty standards and is still determined to push forward.
He added: "My personal goal is to continue progressing this team as far as I can take them in 2019.
"My individual performances are something I am very proud of, but ultimately, it's about leading the team and making sure we win the games that we need to win.
"We've got some good cricket lined up which is all very important to us individually and as a team. We start 2019 with some exciting games in Oman with a quadrangular series against Ireland, Netherlands and Oman before taking on Oman in a 50-over series.
"We want to continue where we left of in 2018 after winning our tri-series in Holland, and the tour will be the best opportunity to set a positive tone for the rest of the year.
"In May, we've got four fixtures against Full Members in Afghanistan and Sri Lanka, and these games will be key for us."
Coetzer and his confreres will benefit from the arrival of new South African coach, Shane Burger, in March, but they are an ambitious group and they will be the second favourites – behind Ireland – when the action stars in Oman.
But their skipper is not remotely interested in just talking a good game. Actions always speak louder than words for Kyle Coetzer.