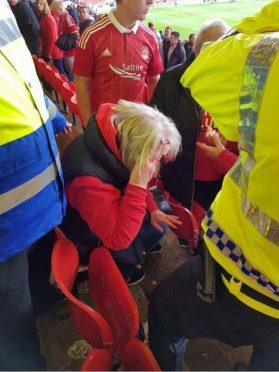 Dons security staff will today scour CCTV footage after a fan was left in agony when a missile hit her on the head.
Pittodrie bosses want to track down the rogue fan who threw the item – believed to be coin – into the packed South Stand on Saturday.
This shocking image shows the 53-year-old victim clutching a dressing to her bleeding forehead, after being struck moments after the final whistle.
Yesterday, a spokesman for Aberdeen Football Club confirmed they were aware of the incident and would be looking through CCTV to track down the culprit.
The victim, who is from the city, did not wish to comment.
But fans who were near her claimed the object came from the direction of Celtic supporters.
The incident happened just a week after Rangers fan Kraig Mackay, 11, had his scalp sliced open after being hit on the head by a glass bottle as he walked to the Old Firm clash at Hampden.
And last month, when the Ibrox side visited the Granite City there were a number of incidents both inside and outside the ground.
Shocking pictures emerged following the match showing a young Dons supporter being struck with a seat after the away fans ripped them out and threw them at the end of the game.
The Rangers team bus was also vandalised with graffiti referencing the 1971 Ibrox disaster, when 66 fans were crushed to death.
Last night, Dons supporters groups said there was an expectation of trouble among home fans when either Glasgow side visited.
Ross Ingram, of the Ellon Reds, said there was an added intensity at the fixtures.
He said: "I think trouble happens with most teams but it does happen more regularly with the Old Firm.
"They take more fans and there's a bigger rivalry between us, it's a bit more intense.
"I don't know what you can do about these incidents, you can't stop and search everyone – if people want to throw things then they will do."
A member of the Fraserburgh Supporters' Club, who did not wish to be named, said some of their members felt intimated as they sat close to the away fans.
He said: "I know some of our fans sit in the South Stand and are in the firing line if anything is thrown.
"They do feel intimated when Rangers or Celtic fans are in the stand and you just fear for the worst when we play at Ibrox in December.
"I don't think trouble should be par for the course because there's no grief or hassle when other teams play, and it's the same at most of away games."
But Kelly Reid of the Northern Lights Supporters' Club said there were troublemakers on both sides.
She said: "I follow Aberdeen home and away and I see it from both sides, every club gets idiots that follow them.
"I wouldn't say that you come to expect it, but it is more likely something will happen against the two so-called bigger teams.
"Unfortunately I don't see how it can be stopped, there's always going to be someone who wants to cause trouble."
Yesterday a spokesman for Aberdeen Football Club said: "There was an incident at the match.
"A woman sustained an injury to her head and she was treated by first aiders.
"The police have been informed and there will be an investigation."
A police spokesman confirmed a 53-year-old woman had been injured.
He said: "Investigations are being carried out and any witnesses should call 101 or Crimestoppers."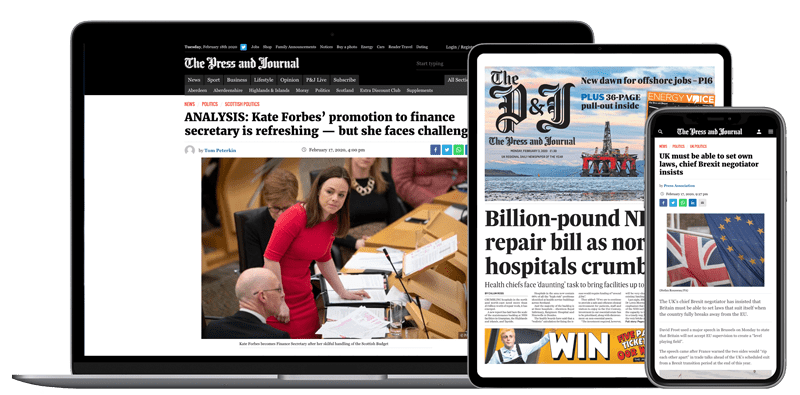 Help support quality local journalism … become a digital subscriber to The Press and Journal
For as little as £5.99 a month you can access all of our content, including Premium articles.
Subscribe