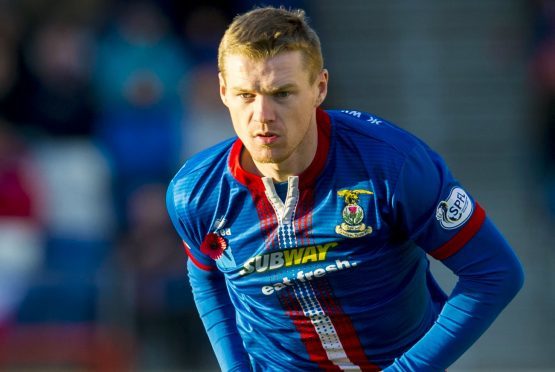 Billy Mckay knows what a relegation-doomed dressing-room feels like after last season's ill-fated loan spell at Dundee United.
But the returning Inverness attacker insists the one he has just walked into feels nothing at all like Tannadice 12 months ago.
Mckay, back at the club where he hit 62 goals in 141 games, is hoping to reignite a career that stalled frustratingly in England following his January 2015 move to Wigan Athletic.
Mckay managed just one start, nine substitute appearances and no goals for the Latics. His most recent loan spell at Oldham Athletic was similarly unspectacular with four goals in seven cup matches but none in 20 league starts.
It was only last season, when he returned to Scotland with struggling United, that the old goalscoring instincts began to click again with 13 netted through the whole of last season.
But United's demise proved irreversible – something Mckay is adamant will not be the case with bottom-of-the-table Inverness.
The 28-year-old had no qualms about rejoining the club in the midst of a three-month run without a league win.
Mckay, whose team-mates host Dundee today, said: "I had a phone call asking if I was interested in coming to Inverness and I said yes straight away. By necessity, I'm staying away from my family for a few months but I'm really looking forward to it.
"The last time I was here I was really successful. I'm hoping I can do the same again, score some goals and help the team.
"I didn't have any reservations about coming back. I've played with a lot of these boys before and I know that by the end of the season, we'll be fine.
"As I know from Dundee United, it's not a good situation to be in and it affects a lot of people. But I'm in a lot stronger dressing-room here and as soon as we pick up a couple of wins, we'll be OK.
"Caley Thistle are used to being written off. The year we finished fourth a few people tipped us for relegation.
"There's always been doubters but we've always had the 'us against them' attitude here and we need to get that back.
"I didn't really think about where the club was in the table when I agreed to come back.
"It got a little bit worse after the Hamilton defeat but it hasn't really crossed my mind about getting out of the situation. I just want to help them do as well as they can.
"You look at the players, one by one, and there is a lot more quality here than is showing. Hopefully, by the end of the season that shines through."