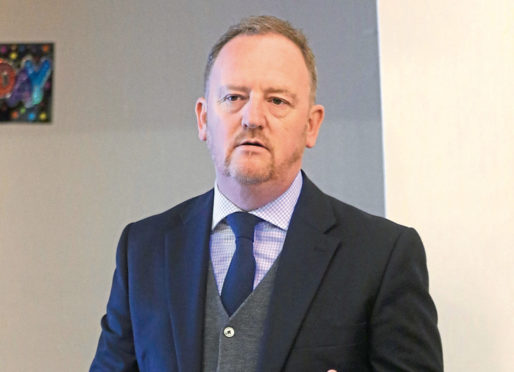 Caley Thistle chief executive Scot Gardiner has welcomed the timely involvement of philanthropist James Anderson in coming to Scottish football's aid amid the coronavirus crisis.
Prior to joining Inverness last April Gardiner had a three-year stint as Hearts' chief operating officer, during which he first came into contact with Anderson.
Anderson, who is a trust manager of investment firm Baillie Gifford, is a benefactor of Hearts who has contributed around £9 million to the Tynecastle club along with other wealthy backers over the past seven years.
In recent days Anderson has emerged with an offer of financial support believed to be around £2 million, in order to help Scottish clubs across all four divisions who are battling to stay afloat.
With Anderson now in talks with SPFL chief executive Neil Doncaster, Gardiner feels the Edinburgh-based tycoon's intervention is a major boost for the Scottish game.
Gardiner said: "As far as I'm concerned, if James and his wife Morag are getting involved with a view to putting money in to help the game, it can only be positive.
"His integrity and demeanour in everything I have ever dealt with him is superlative.
"It can only be good for Scottish football that he's getting involved.
"He is a top-notch individual. Knowing what I know of him, he brings some real honesty and positivity to anything he gets involved in."
Anderson's financial backing to Hearts has previously remained anonymous, and also involved him and fellow philanthropists underwriting the Jambos' shirt sponsorship with the Save the Children charity.
Anderson's donation to Scottish clubs is believed to have no conditions attached, and having helped to protect his identity for several years, Gardiner insists he is not seeking any personal gain in return for his generous action.
Gardiner added: "It comes as a surprise, but I'm pleasantly surprised.
"I know James very well, having kept him secret for six years since I first met him along with Ann Budge.
"I know how much he helped us at Hearts, at the beginning, and all through the years.
"He was tremendous and had a hugely positive impact on the club, Edinburgh and the Gorgie community in general.
"He had an enormous impact on Save the Children, and everything else he has been involved with.
"It can only be welcome, although we don't know any shape of it at the moment."