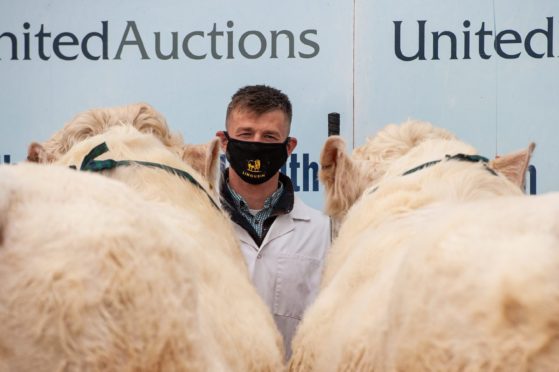 Charolais bulls sold to 20,000gn at the second day of the Stirling Bull Sales.
Buyers and sellers attending the October fixture of the world famous sales, held by United Auctions at its base in Stirling, were forced to adhere to strict Covid-19 rules. These included sitting at least two metres apart in the sale ring and wearing a mask at all times.
In total, 43 bulls sold to average £6,627 and a clearance rate of 63%. This is up £892 on last year's sale.
Topping the Charolais section was April 2019-born Gretnahouse Primate from Gretna Green breeder Alasdair Houston.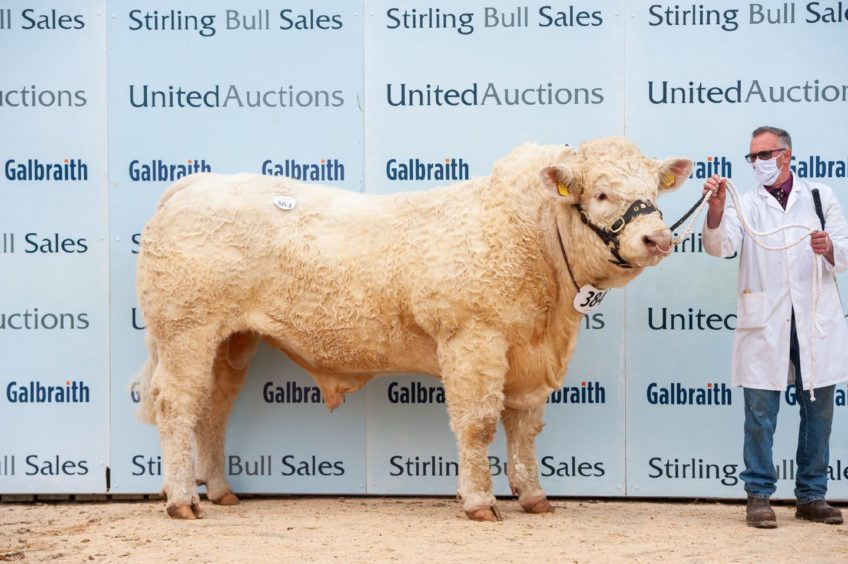 By Westcarse Jimmy and out of Gretnahouse Iugesse, he sold to Hamish Goldie for his Goldies herd at South Bowerhouses, Ruthwell, Dumfries.
Next best at 16,000gn was Glenericht Pablo from the Drysdale family's Glenericht herd at Middle Drimmie, Blairgowrie. An April 2019-born son of Glenericht Limpet, out of Glenericht Juicygirl, he sold to J Wight & Sons, Carwood Farm, Biggar.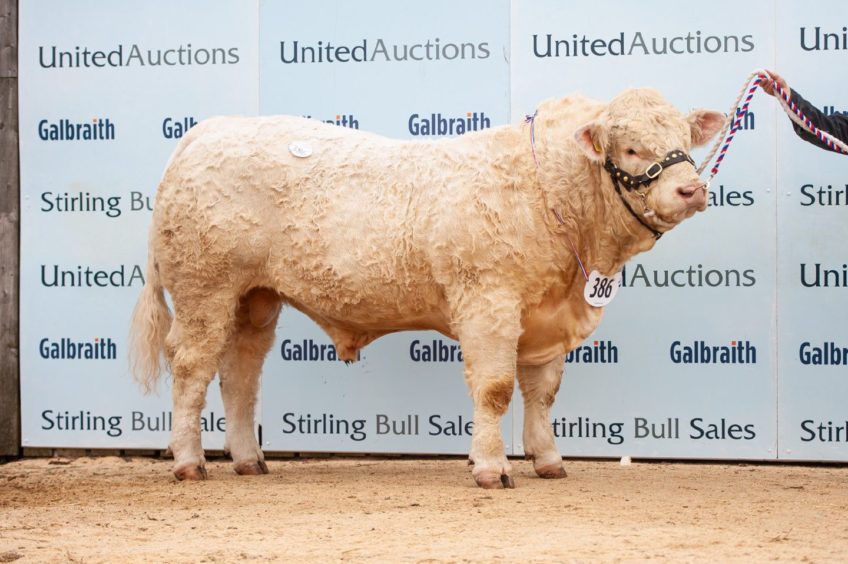 The Drysdales also made 8,800gn when they sold another similar aged Limpet son – Glenericht Parker – to W S Paterson, Golland, Kinross.
Other leading prices included 10,000gn for an entry from the Campbells who run the Thrunton herd near Alnwick. Their sale topper, selling to Messrs Rettie, was March 2019-born Thrunton Paramount, by the 28,000gn Maerdy Jerusalem.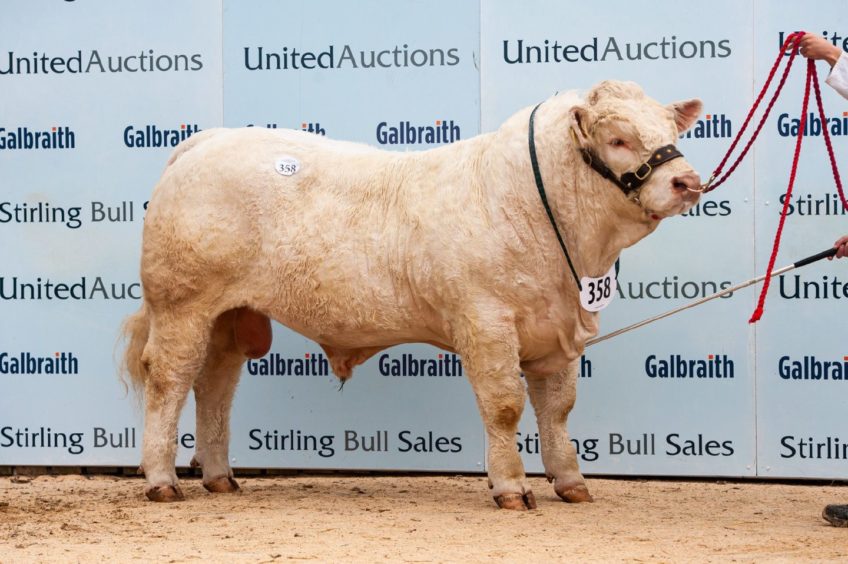 The Campbells also made 8,800gn when they sold another similar aged Jerusalem son – Thrunton Performer – to W Barbour, Carsegowan Farm, Dumfries. Another Thrunton bull – April 2019-born Thrunton Platinum, by Thrunton Gladiator – made 8,000gn when he sold to W Milne, Ernan, Strathdon.
Also at 8,000gn was 17-month-old Balmyle Panther, by the 46,000gn Balthayock Minstrel, from Perthshire breeder Bill Bruce. He sold to W & W Dawson, Whinbrae, Huntly.
Hamish Goldie topped at 7,200gn for March 2019-born Goldies Premier, by Balthayock Marquis, which sold to Messrs Coghill, Orkney.
Thereafter, five lots made 7,000gn. They were: Bombax Pirate, by Westcarse Houdini, from C Smeaton & Sons, Cotton of Ovenstone, Inverarity, Forfar, selling to Easter Tulloch Farms, Laurencekirk; Gretnahouse Pointer, by Balthayock Gladiator, from Alasdair Houston, selling to R McNee Ltd, Woodend Farm, Armadale; Thrunton Pathos, by Maerdy Jerusalem, from the Campbells, selling to J & W Kellas, Raws Farm, Dufftown; Glenericht President, by Glenericht Limpet, from the Drysdales, selling to AJ Beaton, Struan, Isle of Skye;and Marwood Pascal, by Balthayock Lineup, from the Blyths at Elwick, Hartlepool, selling to the Logans at Maxwelston, Girvan.
Meanwhile, the dispersal of the Christie family's Westcarse herd, based near Stirling, topped at 13,000gn for a four-year-old cow with her April-born bull calf at foot. The pair sold to the Barclays at Harestone Farm, Insch.
Westcarse Milly, by Mortimers Highlander and out of Westcarse Ivy, was sold in-calf to Nuthampstead Judas. Her bull calf – Westcarse Ruler – was sired by Judas, which also sold in the dispersal for 6,000gn to J & S Middleton, Woodhead of Laithers, Turriff.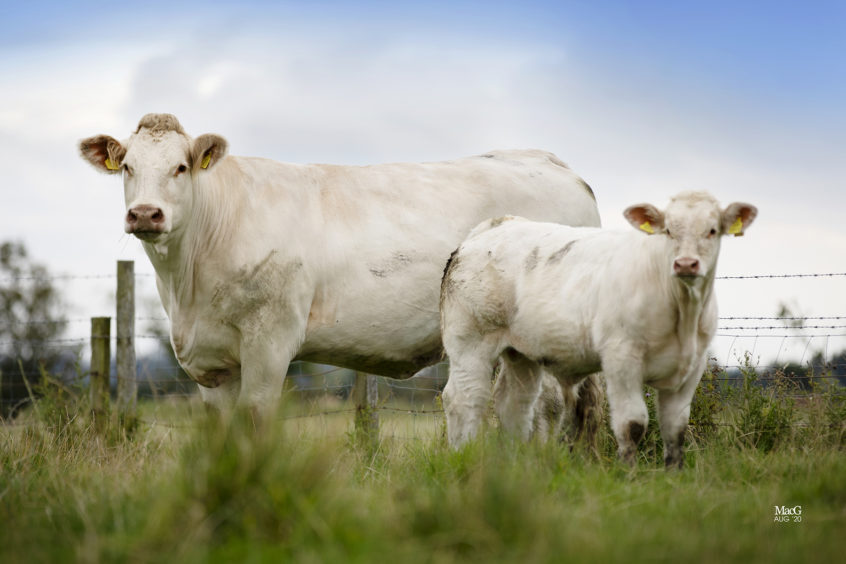 The next best price of 8,500gn was made twice.
First at this price, selling to Brailes Livestock in Oxfordshire, was four-year-old cow Westcarse Molly, by Mortimers Highlandfling. She sold with her heifer calf – Westcarse Rachel, by Nuthampstead Judas – at foot.
The other at 8,500gn, selling to the Forrests at Hillend, Biggar, was a maiden heifer out of the 13,000gn Westcarse Milly. This was Westcarse Peaches, by Nuthampstead Judas.