Pipe in hand and tweed bunnet firmly on, Marc Ellington is the very image of Scottish gentry as he surveys Inchdrewer Castle in the rolling countryside of Banff.
A fierce wind whips round the spiral staircase and empty rooms of the 16th-century tower house which looks across to Banff Bay making it appear haunting and romantic.
Where most would see the ruins of Scotland's past, Marc sees a priceless slice of history ready to be reborn.
Inchdrewer was bought by Russian princess and former Versace model Olga Roh and her husband, international lawyer, Stephen, two years ago but it is Marc who has been tasked with bringing it back to life.
As deputy lord lieutenant of Aberdeenshire and former board member of the government's Historic Buildings Council among other titles, he is evidently the best man for the job and is no stranger to castle life.
Marc's own humble abode is that of Towie Barclay, a stunning 16th-century castle that he completely restored and his wife Karen is an award winning landscaper and garden designer.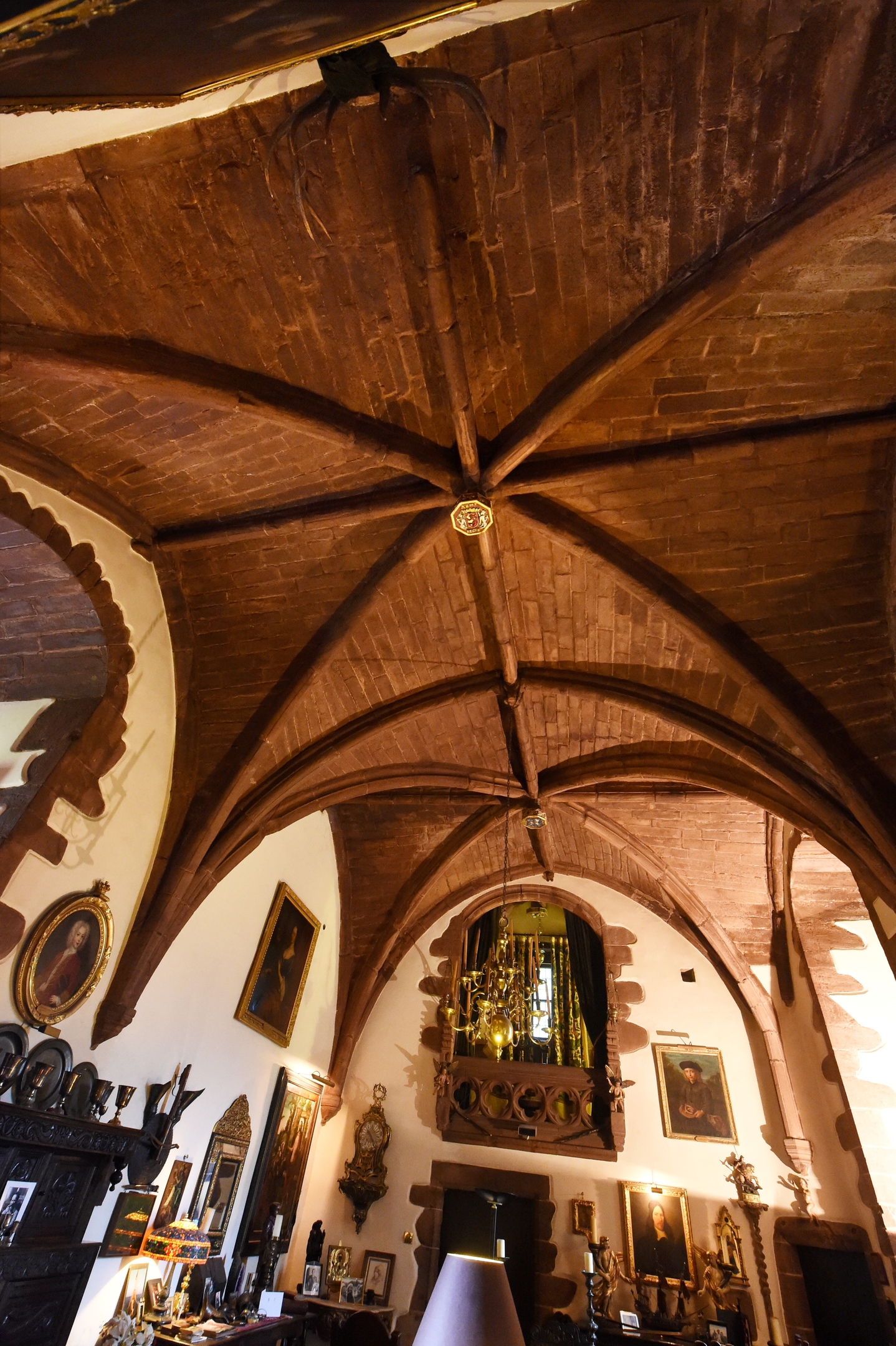 With the Saltire flag proudly flying above the turrets, Towie Barclay is tucked away behind trees and stunning private gardens and envelops visitors with a sense of tranquility and of the past.
A rap on the main door echoes throughout the building before the door swings open to reveal an altogether different world, one where blazing torches would not look out of place to light the way.
Marc welcomed me into the great hall with a firm handshake and broad smile, having lit a roaring fire in a room filled with historical knick knacks.
A shield from the Battle of Culloden, oil paintings of previous inhabitants and a religious relic carried by Catholics are just some of the items which adorn every available surface, with all furniture reminiscent of a bygone era.
Over coffee Marc told me I am sitting in the best preserved late medieaval great hall in Scotland.
It has stunning gothic style ceilings that are roughly 13 foot high and bear the crest of the Royal Arms of Scotland.
Persian rugs cover the flagstone floor and have been made in the style of the era.
A minstrels' gallery overlooks the great hall and marks the spot where musicians would once have performed to the Barclay family before the castle was passed on to the Earl of Findlater.
The gallery also contains curtains and precious needlework from the early 16th century.
Restoring ancient ruins to their former glory is just one of Marc's many talents, as he is also a folk singer and has performed with Fairport Convention.
Marc was awarded an honorary degree from Aberdeen University thanks to his contribution towards Scotland's heritage, and was further acknowledged in recipient of the Saltire at the European Heritage Awards.
With his greying hair tied back in a pony tail and head buried in books, he is a mixture of charming historian and quiet academic, modest of his talents and passionate about his calling.
Despite having lived in the castle for decades, Marc admitted he has moments when he can't quite believe he calls a 16th-century castle home.
"When Karen and I decided to restore Towie Barclay it hadn't been lived in for 200 years, it was nothing but a ruin when we started work in 1969," he said.
"There was ivy everywhere but we had a vision and we've stayed true to it, we were unlucky enough not to have pictures and plans of what the castle used to be like and the restoration process took us four years.
"I am passionate about the history and heritage of Scotland and in particular Aberdeenshire which is very dear to my heart, there are moments when I sit here and look around in wonder.
"We tried to conserve and restore the features of the original building and although we made alterations for contemporary living we kept that side to a minimum.
"I feel very inspired here and although I don't feel any ghostly presence I can imagine what went on.
"When I first saw Towie Barclay I saw not what it was but what it could be – it was a ruin desperately in need of restoration."
Marc and Karen have raised their two daughters, Iona and Kirstie at Towie Barclay and it is now a playground for the couple's three grandchildren.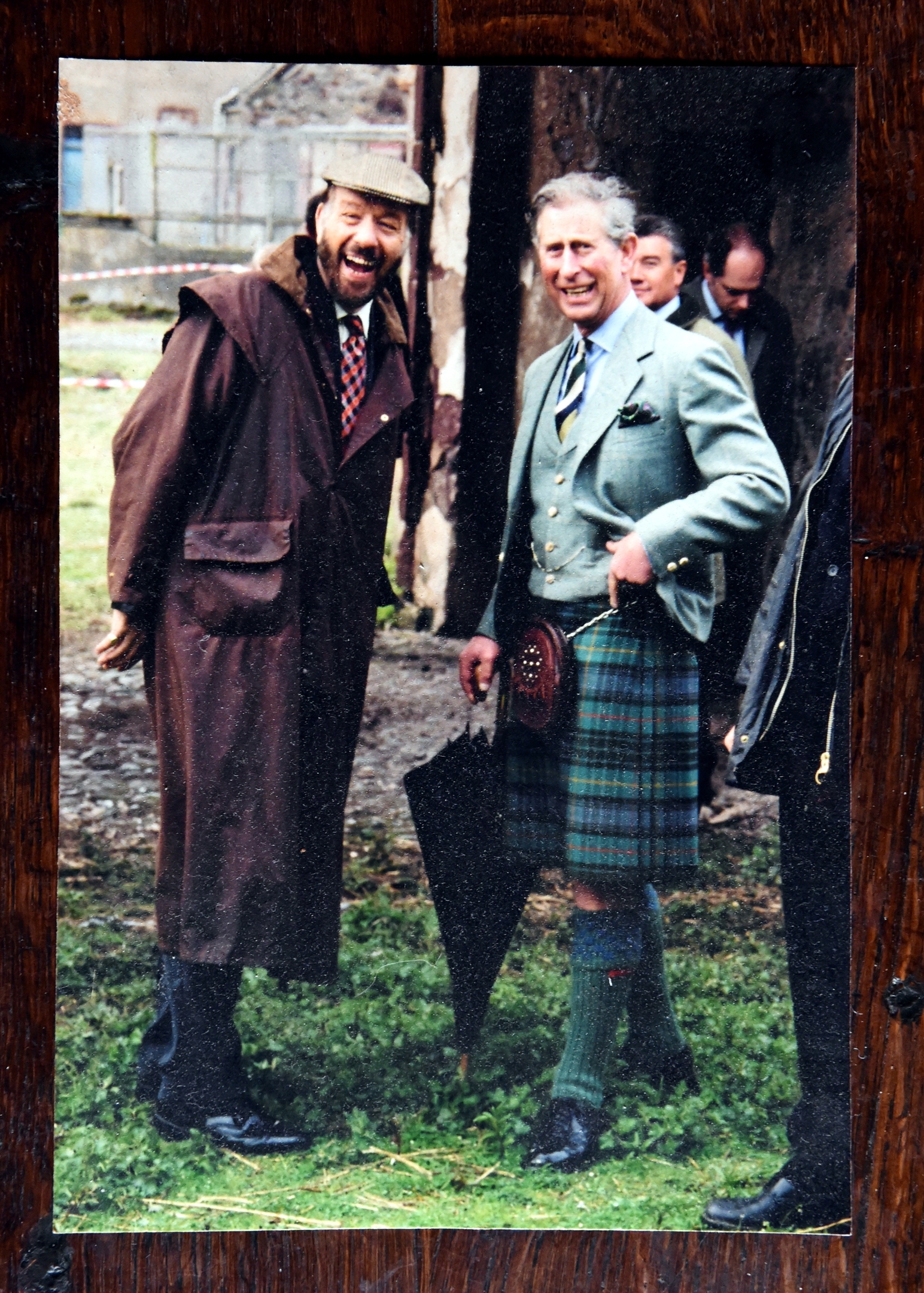 Marc counts Prince Charles and Billy Connolly as personal friends, and the two vastly different men are indicative of Marc as a whole; he is equally at home in front of his log fire as he is on the exposed slope where Inchdrewer stands.
Framed photographs show his various meetings with royalty, including the late Queen Mother, and stand nestled amongst medieval weaponry – the likes of which counts as every day decoration at the castle.
Olga, who describes Marc as an "extraordinary man," is kept busy with a hectic schedule but has entrusted Marc with the rugged rocks of Inchdrewer, which until recently was a hide-and-seek haven for local kids.
It stands alone and derelict, yet proud and has largely remained a secret in the area across the decades.
Unlike Towie Barclay, Inchdrewer is still waiting to be truly reclaimed and can only be accessed down an overgrown track and across muddy farmland.
"I was so relieved when Olga and Stephen bought Inchdrewer because previously it had no secure future, despite the fact that it played such a monumental role in Scotland's history," said Marc.
Inchdrewer was originally owned by the Curror family in the 1500s before it was passed on to Walter Ogilvy.
In 1640 the castle was attacked by Robert Monro who led the Covenanters in a siege and all but destroyed the building, but it was then rebuilt by George Oglivy who became the first Lord of Banff.
To see Marc striding around the castle grounds with the sea on the horizon is to see him in his natural habitat, wildly gesturing at the landscape and shouting into the wind.
He seems completely unaware of the elements and has clearly had a longstanding love affair with Inchdrewer.
"It was following the Battle of Culloden that everything went awry because the first Duke of Cumberland attacked the castle in his search for Bonnie Prince Charlie," he said.
"He didn't find him of course and the castle was then inherited by the Abercrombies and was lived in throughout the 1800s.
"It was then left uninhabited and experienced a long period of neglect until Count Robin de La Lanne-Mirrlees took it on."
It is clear that Marc held a great deal of respect for the late Count Robin who passed away in 2012 and he believes Inchdrewer would not be standing without him.
"Robin did an enormous amount of the work here and it's thanks to him that it didn't fall down altogether," he said.
"In a way Olga is the perfect new owner as the north-east has many links to Russia across history.
"I'll do everything I can to help Olga and Stephen because our heritage is so important and I think people need to realise that restoration is possible.
"There are a great many country houses which have been restored alongside Hart Hill and Aboyne, these places deserve more than to be left as a pile of stones."