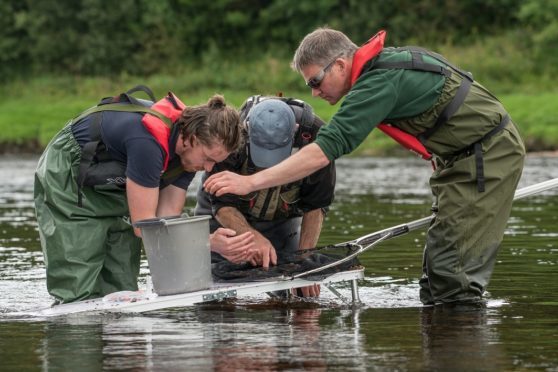 Campaigners have criticised the escape of more than 21,000 farmed salmon escaped into a Skye loch.
A salmon farming company has admitted the major escape from one of its cages anchored in Loch Snizort.
Grieg Seafoods said it believed about 21,700 fish escaped, with an average weight of 2kg (4.4lb).
The damage was discovered by a diver during a routine check at the fish farm on February 11. It was immediately patched up.
A report was submitted to the government agency Marine Scotland.
But Don Staniford, Director, Global Alliance Against Industrial Aquaculture, said it was just yet another example of Scotland's "leaky" salmon farms.
"Escapes from Scotland's leaky salmon farms are killing wild salmon via genetic pollution and lice infestations," he said.
"A scientific study by the Royal Society reported back in 2003 that mass escapes can precipitate an 'extinction vortex' in wild salmon.
"Over four million salmon have escaped from Scottish salmon farms in over 200 incidents since 1998. Scottish salmon farming is dead in the water."
Grieg Seafood, based in Norway, has seven pens in Loch Snizort, where it grows more than 400,000 salmon.
Most of its UK operations are around Shetland.
With concerns that farmed fish can damage wild populations, a company statement said it takes fish containment very seriously, and that it is carrying out an in-depth investigation to avoid the escape being repeated.
Grant Cumming, managing director Grieg Seafood Shetland Ltd, added: "Our priority is to prevent escape and a temporary mend to secure net was immediately applied.
"Marine Scotland were informed of the incident and the net was repaired the same day. Since then we have counted the fish in the net and regrettably estimate that we have lost 21,700 fish. The fish were in good health and had not received any medicines lately.
"We are conducting an in-depth investigation to discover the root cause of the breach in the net to ensure it does not reoccur."