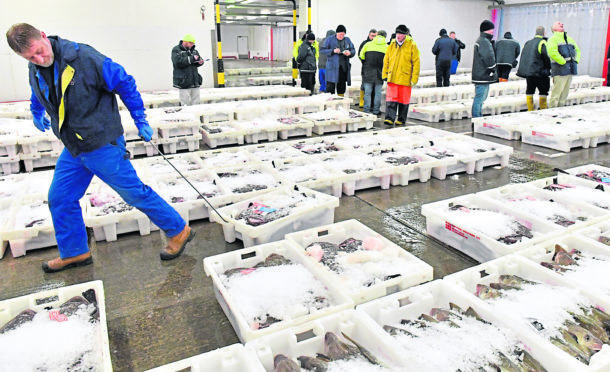 Struggling coastal communities across the north and north-east could be "revived" if councils can work with local industry players to capitalise on bigger fishing quotas post-Brexit.
Shetland Fishermen's Association executive officer Simon Collins says local authorities have a "golden opportunity" to influence the scope and funding level of a UK Government replacement fund which could help finance better harbour infrastructure in the coming years.
The fund would replace the existing European Maritime and Fisheries Fund (EMFF), of which the Scottish Government receives 107 million euros a year – a 46% share of the UK allocation.
The challenge comes as a new study by Dr Ian Napier, of UHI's North Atlantic Fisheries College Marine Centre in Shetland, argues the UK fishing industry could potentially "double in size" after Brexit – to £1.68 billion.
Mr Collins says now is the time for local authorities to engage with the industry to make a business case for investment in local harbours in time for the end of the Brexit transition, which he predicts could be December 2020.
And he believes many communities along the west coast, including Gairloch and Ullapool, and villages like Avoch, Brora and Helmsdale on the east coast, could reap the rewards if enough funding is made available.
He said smaller fishing ports in Moray and Aberdeenshire would also stand to benefit.
Mr Collins said: "There are plenty of people willing to fish and the expertise is there. We just want to make sure local authorities are planning ahead.
"There is a realistic prospect down the line for a revival and communities that have large or small boats can benefit – but they won't benefit without the infrastructure and distribution to market.
"There really is a prospect of additional wealth and opportunity for those communities that have suffered."
Peterhead-based BBC Trawlermen star and Scottish Seafood Association chief executive Jimmy Buchan said it was key that any post-Brexit growth boosts entire communities up and down the north-east.
He said: "We have all been saying this for long time, but if comes from an official verified report then all the better.
"This [Brexit] is an opportunity for us to grow our sector and with that will come more prosperity.
"If people are employed they will be spending money on cars, holidays and in the local area."
And Gordon Cowie, vice-chairman of the Buckie Harbour Advisory Committee, is hopeful the Moray town could yet see a revival of its "glory days" of fishing.
He said: "We had a big fishing fleet here before we started having to decommission the boats.
"I still hope that those days could come back again. Obviously nothing's certain but we are in an ideal position here.
"There's still a good amount of boats at Buckie landing squid and prawns among other things. There's a lot of other positive developments coming at the harbour too – hopefully they will all help each other."
An EU mechanism called the Common Fisheries Policy currently gives all European fishing fleets equal access.
But after a Brexit transition, UK fishermen would have full control of waters up to 200 miles from the coastline under the country's own Exclusive Economic Zone (EEZ).
The UK Government will still need to negotiate with other countries because the waters will still be shared. In any case, UK fishermen will be expected to get a larger share of quotas over time.
Dr Napier says that in 2016, UK vessels caught 36% of all fish and shellfish landed from within the British EEZ – worth £815 million – with another £112 million caught from other areas of the EU EEZ.
His research concludes that the fishing industry could reach £1.68 billion if the UK follows the example of Iceland, where 95% of fish caught within the 200-mile limit is landed by local vessels.
Scottish Fishermen's Federation chief executive Bertie Armstrong said the key to maximising this potential gain will be "political backbone" in Brexit talks, and a 100% resistance to any "messy trade-offs" such as guaranteeing no-change access to EU vessels.
Mr Collins spoke of the need for council collaboration at the Convention of Scottish Local Authority's (Cosla) Economy and Environment board in Edinburgh earlier this month.