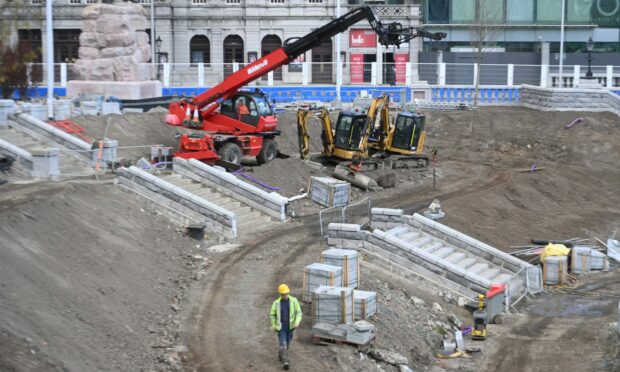 A senior Aberdeen City Council source has denied the public should have expected access to any of the refurbished Union Terrace Gardens today – despite promising a "soft opening".
Plans for the event, which was never better defined by the local authority, were called off at the very last minute this morning.
Balfour Beatty, the city's contractors on the £28 million project, blamed a shortage of building materials for the U-turn.
But the last gasp timing of the announcement has been branded "shambolic" and something that was "increasingly clear" would happen as today approached.
It comes with less than a fortnight to go before the local elections, with regeneration of Aberdeen city centre at the heart of debate ahead of polling day.
'Soft reopening' of Aberdeen's UTG cancelled
April 26 was declared the date for a "soft opening" only 50 days ago, during the administration's budget speech in March.
But red-faced chief executive Angela Scott today confirmed the cancellation, saying the local authority "is naturally disappointed" it would not go ahead.
Not committing to any future opening date – soft or otherwise – she added: "We look forward to the full opening in due course."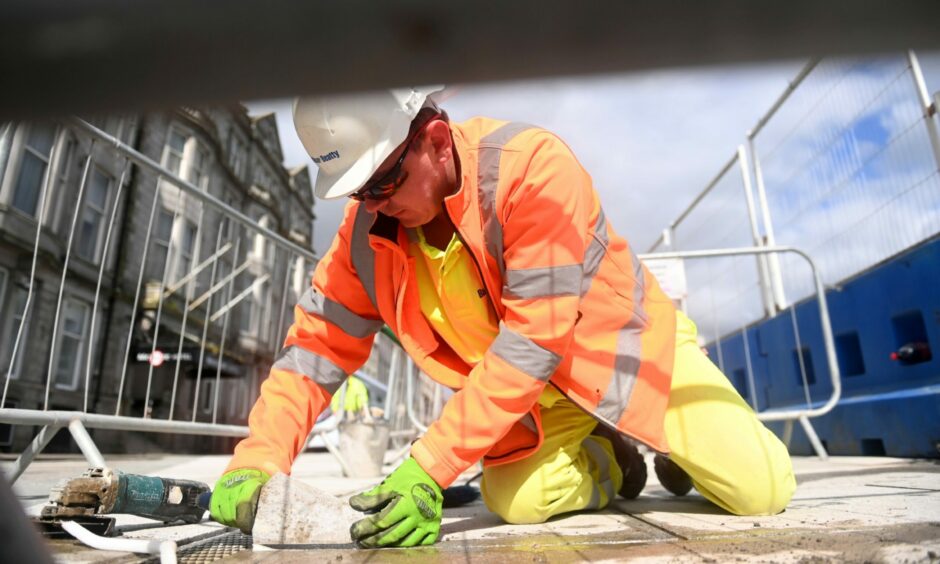 ---
What do you think? Have your say in our new commenting area below
Gardens far from finished with Covid disruption blamed for ongoing work
While never thought to be a full reopening of the Victorian park, the vaguely defined "soft opening" was expected to grant some limited access.
Onlookers had been questioning progress in the past weeks, as heavy construction work could still be seen from Rosemount Viaduct.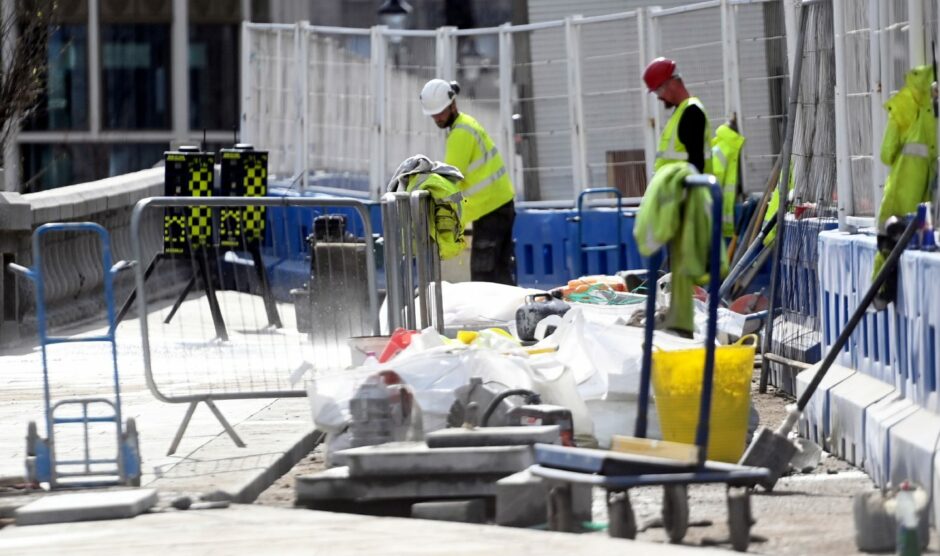 It had been planned that by now only gardening and planting work would be left to be finished over the summer in the gardens, first opened in 1879.
As well as the "grand staircase" and winding walkway leading down from street level, work also includes new lifesaving barriers on Union Bridge, three new pavilions to be rented out, and improvements to access including a lift.
Barriers blocking off one lane of Union Terrace were removed at the weekend, while barriers on Union Bridge – with its new safety barriers – were also taken down.
'Soft opening' does not mean increased public access to UTG, council source claims
Now, a council source – who had most of March and April to correct public expectations – has taken issue with The P&J's suggestion public access had been promised with the use of the word "opening".
No future date for renewed public access – soft or otherwise – has been announced.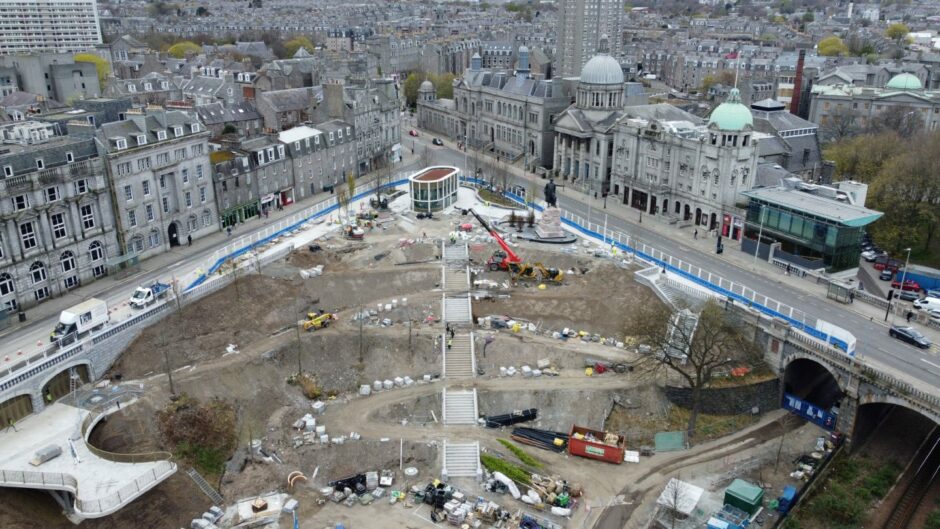 The refurbished UTG was initially planned to reopen last summer, with numerous Covid lockdowns and restrictions blamed for delay.
Severe weather was also blamed for costing Balfour Beatty time.
But it was a shortage of building supplies that was cited by the contractor for the opening being cancelled, as a spokesman said: "External factors such as Covid-19 and more recently material supply issues continue to disrupt construction projects across the UK.
"As we move towards the anticipated completion of Union Terrace Gardens this summer we continue to work with our supply chain to minimise these effects."
It is not the first time short supply of building materials has been raised on city council projects, with top brass blaming a nationwide effort to stimulate the economy with construction projects for the trouble.
'Shambolic UTG reopening attempt' blasted as cancellation 'no surprise'
Aberdeen Liberal Democrat group leader, Ian Yuill, told The P&J he doubted many were surprised by the last-minute cancellation.
He said: "As the date for the 'soft' reopening got ever closer it became increasingly clear that Union Terrace Gardens would not be ready in time.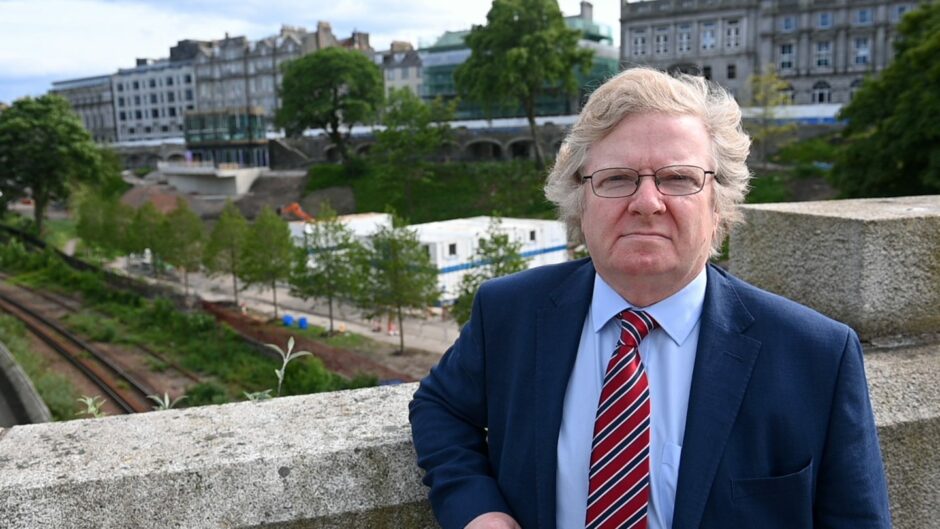 "A 'soft' reopening in the last week of April always seemed over ambitious.
"The choice of date seemed to have more to do with a desperate attempt by Conservative and Labour councillors to try to get positive publicity a few days before the council election than a common sense approach to reopening Union Terrace Gardens."
Both party leaders from the ruling administration, Labour council leader Jenny Laing and the Conservative finance convener Ryan Houghton, were approached for response.
Instead, an unnamed administration spokesman was quoted in reply.
"It is disappointing that the planned soft opening of Union Terrace Gardens was unable to go ahead today but we are confident that the public will be both pleased and impressed with the finished results when the project reaches conclusion in the coming months," they said.
"As usual, Councillor Yuill's hypocrisy knows no bounds. Whether in administration or opposition the mantra of the Liberal Democrats has always been dither, delay and defer.
"It would appear that in the run up to the election he and his Lib Dem colleagues are so devoid of ideas the only way they can get publicity is to criticise the administration's attempts to move Aberdeen forward."
Kevin Stewart, the SNP Aberdeen Central MSP, rounded on the council leadership too, adding: "I'm surprised it's taken until this late in the day for the administration to listen to sense and postpone this ridiculous early opening.
"It would have suited nobody to open the gardens to the public at a time when they're a mud bath and it would have done untold damage to the reputation of the council and this city.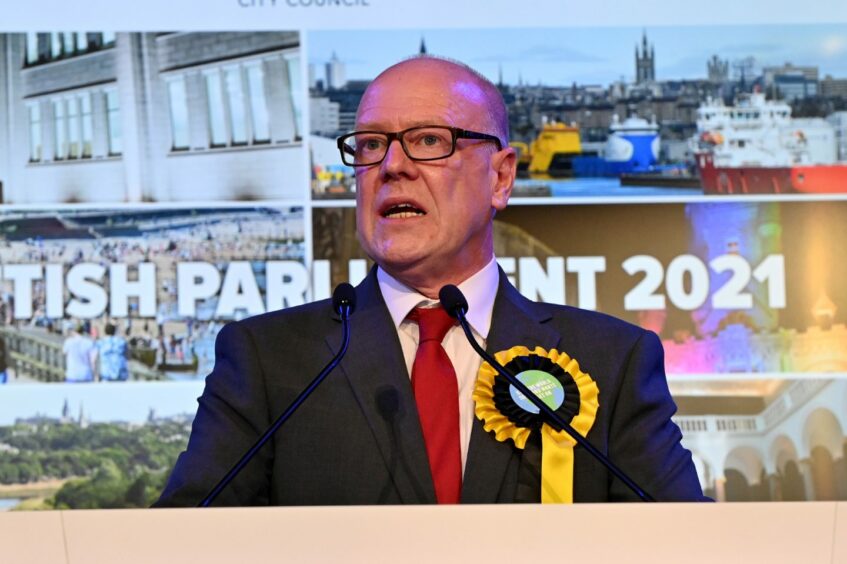 "I am worried that the postponement was only announced on the day of the planned opening though. I fear we may yet see another shambolic attempt to open UTG before the elections."
He also hit out at the Tory-majority administration for having the "cheek" to blame supply chain issues, given "it was their government that imposed Brexit on us and caused these".
The nameless coalition spokesman hit back, bringing up the Scottish Government's over-budget, delayed ferry project.
They said: "I am surprised Kevin Stewart MSP has time to think about Union Terrace Gardens today given SNP Ministers have been accused of "institutional corruption on a grand scale" over their failure of transparency in connection with Scotland's ferry fiasco.
"In contrast, the council in dealing with Union Terrace Gardens has been open and transparent with the public and whilst it is disappointing that the soft opening of the gardens did not go ahead today, I am confident that when they do re-open to the public later this year they will prove very popular with residents and visitors alike as they will provide a wonderfully accessible and vibrant green space right in the heart of the city centre which can be enjoyed by all generations."
We have been keeping an eye on this last month of work as the gardens neared the opening date. Read more here:
Union Terrace Gardens: Mystery remains on eve of UTG 'soft reopening'