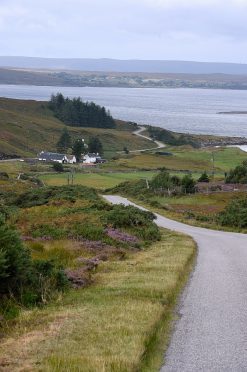 It is a one-road route that takes visitors to what feels like the edge of the world.
But now, the brains behind the North Coast 500 drive are offering a luxury version of the trip with a VIP membership scheme.
For the not-inconsiderable sum of £250, people can enjoy a range of benefits along Scotland's answer to Route 66.
The NC500 is a circular route of more than 500 miles which runs to and from Inverness, venturing round the capital of the Highlands, up the west coast and back via the rugged north coast.
The Club 500 Gold Membership comes with a range of limited edition gifts, discounts and benefits.
Tom Campbell, managing director of the North Coast 500, said: "Since our launch in 2015, we've been delighted by how quickly the route has grown in popularity. The benefits for tourism in the North Highlands are already apparent, with lots of businesses telling us that it's been their best ever year.
"Our gold membership would make the perfect present for anyone who's planning a NC500 road trip, newcomers and regular visitors alike. There's so much to explore on the route, and investing in a Gold Membership will really pay off in the long-run with all the discounts and gifts that it offers."
One of the perks of the gold membership is access to a concierge-style service to help visitors plan their trips around the route.
They'll also receive a limited edition bottle of gin as well as a fine merino scarf made in Elgin.
Earlier this year a study revealed the "absolutely incredible" impact of the route on tourism and business in the Highlands.
The NC500 was launched in March last year by the North Highland Initiative to develop sustainable economic growth across the north Highlands.
Dunrobin Castle in Golspie reported that it had "smashed" its two decade-old record for visitors, and attributed the rise to the NC500.
Police launched a speeding crackdown on the route during the summer, amid fears that supercars were turning it into a Highland race track.
Brazen drivers were seen boasting online about completing the trip in less than 24 hours – and high-end vehicles, including Ferraris and Lamborghinis, were queuing up to take part in a North Coast 500 "rally" in July.
Some locals along the route started calling it the "Indy 500" – after America's Indianapolis car race – complaining of cars travelling at high speed and indulging in "crazy" risks while overtaking on bends.
Comment, Page 25