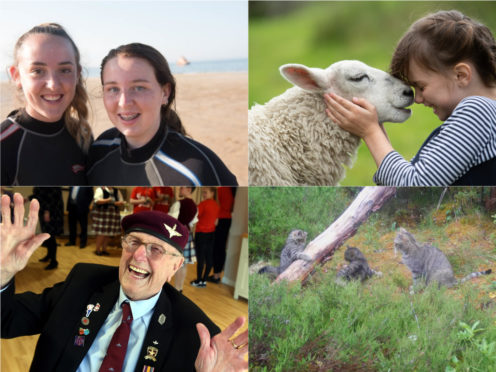 It was a summer of people power, protests and political shifts as thousands took to the streets to campaign for a host of causes while Boris Johnson settled into 10 Downing Street as the country's new prime minister.
Holidaymakers had their plans plunged into chaos as a series of strikes began at six Scottish airports amid a row over pay.
Elsewhere marches took place across the country, with thousands hopeful they could drum up further support for a second independence referendum.
And people of all ages mobilised after hearing the call from Swedish climate change campaigner Greta Thunberg, whose impassioned pleas urging world leaders to reconsider their stances on global warming were heard by millions across the world.
This was just one segment of the widespread political upheaval felt throughout the country as the UK went through a significant leadership change.
Theresa May resigned as prime minister on July 24, after MPs failed to back her Brexit bill in three separate votes. She was succeeded by Boris Johnson, whose "Get Brexit done" mantra provided a soundtrack for the remainder of the year for many.
Here is what else happened in the second half of 2019:
JULY
July 1: Inverness hosts European Piping Championships for first time
GALLERY & VIDEO: Inverness hosts European Pipe Band Championships for the first time
July 2: Years of hard work paid off when a £12 million sports centre designed to inspire a future crop of sporting stars from Moray officially opened.
Milestone moment for sports fans as new £12 million centre opens in Moray
July 2: England's 1-2 defeat to the United States in the women's football World Cup becomes the country's most-watched television broadcast of the year.
July 4: Police in England will carry out an independent investigation into the "unexplained" death of north man Kevin McLeod more than 20 years ago.
Delight for parents as police admit investigation into death of Wick electrician 'fell short' as independent review ordered
July 15: Filming for new Bond movie starts in the Highlands
The return of James Bond filming is giving the Highlands a licence to thrill
July 17: The remains of a man were discovered in the B&Q car park on Longman Road in Inverness.
July 17: Rock legend Rod Stewart brings the curtain down at the AECC and delighted a packed crowd with five decades' worth of hits in the Granite City.
Sir Rod Stewart brings down curtain on AECC… And announces return date for P&J Live
July 24: A £1.1m trauma centre to treat critically-ill patients before they arrive at hospital is officially opened in Aberdeen.
New £1.1million centre is opened to help trauma and critically ill patients in Aberdeen
July 25: Council engineers seal off bridge to East Beach in Lossiemouth after increased use during the recent sunny weather left it unsafe.
Seven-mile trek for visitors to reach Lossiemouth beach after council suddenly seals off bridge
July 30: An investigation has begun after an 84-year-old woman died following a devastating gas explosion at her home in Shetland.
AUGUST
August 1: Fort William stunned Nairn at Claggan Park to record their first victory since a North of Scotland Cup win over Elgin City in August 2017.
At last! Fort William's 840 day and 73 match wait for a win is finally over
August 7: Banff man Frank James, 54, is jailed for nine months following a raid at what was believed to be Scotland's biggest puppy farm in 2017. His accomplice, 30-year-old Michelle Wood, is given 300 hours of unpaid work.
August 10: Visitors who enjoyed a first look at P&J Live when the north-east's newest and biggest venue held a special preview event  say they were "blown away" by the experience.
'Absolutely amazing' – P&J Live open day visitors vote new entertainment venue a huge success
August 10: A large-scale search is launched for missing Peterhead man Ruairidh Sandison, whose body is found the following month – sparking thousands of pounds in donations to music charities.
August 17: Thousands take to the streets of Aberdeen for the city's first All under one banner procession, showing their desire for Scotland to become an independent country.
'It shows the desire for independence': Organisers of Aberdeen indy march hail event as a success
August 19: Video footage is revealed showing Prince Andrew at convicted sex offender Jeffrey Epstein's mansion.
August 23: The final resting place of HMY Iolaire will be recognised as an official war grave after the Ministry of Defence signalled its intention to protect the wreckage under a special parliamentary act.
Exclusive: Iolaire to be recognised as an official war grave by MOD a century after 201 servicemen perished
August 25: Thousands of runners pound the streets for the last Great Aberdeen Run.4
VIDEO & GALLERY: Bumper crowds turn out for final Great Aberdeen Run
August 27: Two north-east girls are hailed as heroines after using a lilo to rescue a father and his four-year-old son who had been swept to sea off the coast of fraserburgh.
Heroic sisters use inflatable lilo to save father and son, 4, from the sea
August 28: Jacob Rees-Mogg visits the Queen at her Balmoral residence to ask her to prorogue parliament, in a move which will later be ruled unlawful by the Supreme Court.
August 29: Ruth Davidson resigns as leader of the Scottish Conservatives.
SEPTEMBER
September 3: Seven rare wildcat kittens are born at the Highland Wildlife Park near Aviemore.
VIDEO: Conservationists stunned as seven wildcat kittens are born at Highland Wildlife Park
September 5: Scientists investigating the Loch Ness Monster mystery found no evidence to support the theory there is a 'Jurassic-age reptile' in the Highland waters.
'Giant eel' theory for Loch Ness Monster most plausible, scientists conclude
September 11: William MacDowell is charged with murdering Renee Macrae and her three-year-old son Andrew, who were reported missing in 1976.
September 11: Nine-year-old Ailish Martin is overjoyed as she is reunited with pet lamb Effie, who had been bundled into the back of a van by thieves three days earlier.
Overjoyed north family reunited with pet lamb Effie three days after she was bundled into van
September 25: Hundreds of jobs are saved at Stoneywood Mill in Aberdeen as the closure-threatened facility is bought over.
450 Aberdeen jobs saved after Stoneywood Mill buy-out completed
September 26: Aberdeenshire councillors approve a second 18-hole golf course and a 550-home development at the Trump International Golf Links base at the Menie Estate.
September 27: A 97-year-old veteran who parachuted over the Dutch city he was captured in 75 years ago given a hero's welcome as he arrives home in Aberdeen.
VIDEO: Aberdeen veteran, 97, given hero's welcome as he arrives home after daring parachute stunt