The Aberdeen masterplan has been likened to a catalogue, pages folded and items circled, as children greedily draw up their Christmas lists.
Councillors this week heard stark fears that ploughing tens of millions into eye-catching regeneration city centre and beach schemes could come at expense of the basic public services.
Day-to-day budgets for the likes of schools, social work, sports facilities and museums could be hit by the rising cost of building Aberdeen's big-money projects.
Council chiefs have long warned of a "growing gap" in the funding sent north from Holyrood to pay for essential public services, meaning every penny will count.
The cuts are feared to go so deep that the public are being polled on where they can bear the axe falling next year.
Full steam ahead! Aberdeen City Council presses on with beach revamp
Meanwhile, the local authority is surging ahead with construction projects, despite "much higher" costs since the Covid pandemic.
Already a new primary school in Tillydrone is being built, while the council finally settles a freshly increased bill for the new-look Union Terrace Gardens and Aberdeen Art Gallery.
Costs of those two city centre regeneration projects has risen by millions more, as we revealed last week.
Meanwhile, plans are being drawn up for a £50m Aberdeen market, revamped beachfront and a £60m park in Queen Street.
On top of that, the city is jointly bounding into green hydrogen production in a multi-million-pound project with BP.
And top project manager John Wilson has warned the everyday running costs of the shiny new things, long after facilities are built, could threaten key services Aberdonians depend on.
His cautionary briefing was published days before councillors signed off on a £48m first phase of work on the Aberdeen beach masterplan.
Risk 'ever-present' as council commits to £48m beach revamp
The local authority receives two block grants from the Scottish Government.
The revenue budget goes towards public services. In Aberdeen, the grant needs to be significantly bolstered with council tax and business rates income.
The other budget, capital, is to help cover the cost of infrastructure projects.
Mr Wilson, the chief officer in charge of those building projects, told councillors: "There is still a need to be cautious with the ever-present risk of change in the construction sector.
"Regular consideration is needed on whether to delay, pause or cancel any projects which are still not legally committed (where the council is yet to sign a binding contract)."
He further gave notice that given the financial forecasting, more cuts may need to made on the approved list of city building projects.
Otherwise, new big-ticket items added to the council's wishlist will come with "funding implications" on the city's revenue budget.
Combined with the "growing funding gap", it could spell cuts further cuts across the council's day-to-day work.
Aberdeen City Council urged to be on 'high alert' as city centre and beach masterplan progresses
Finance bosses have warned next year's budget could bring larger class sizes, leave grass uncut or streets unlit.
Court action looms over the oft-branded "difficult decisions" taken on council budget day this March.
The local authority could yet be forced to reopen six libraries and a swimming pool closed as a result of cuts.
With all of that in mind, Mr Wilson wished to put councillors on "high alert" about the current financial riskiness of the capital programme and its "wider affordability implications" for the city.
But there followed little indication that councillors were heeding the stark warning.
Aberdeen beach masterplan wishlist gets the go ahead – despite notable exception
On Monday, councillors voted through a £48m wishlist for the beach, including a new park split down either side of the Boulevard.
The main bone of contention ahead of the vote was the ongoing will-they-won't-they with Aberdeen FC.
A new Dons stadium at the waterfront is predicted to bring a £1 billion boost to the city economy.
But council chiefs are this year yet to speak to club about it being part of the phase two beach plans.
However, there were also calls to pare down the beach aspirations – at least for now – to allow the council to find its feet and maintain what the city already has.
Marie Boulton – until November 2021 the council's lead on the city centre and beach masterplan – proposed at least a delay on the Boulevard-side park, while pressing ahead with the Broadhill viewing platform.
Money saved, fellow independent councillor Jennifer Stewart suggested, could be used to repair the city's crumbling roads and pavements.
Other, more modest, improvements at the beach – to lighting, railings, footpaths, beachfront erosion and the existing playpark – could still have gone ahead.
'Real questions over affordability that we need to begin to ask'
Making her case, Mrs Boulton – who steered the city masterplan through the art gallery, Union Terrace Gardens and Provost Skene's House works – urged colleagues to "take a step back and ask, is this still affordable?".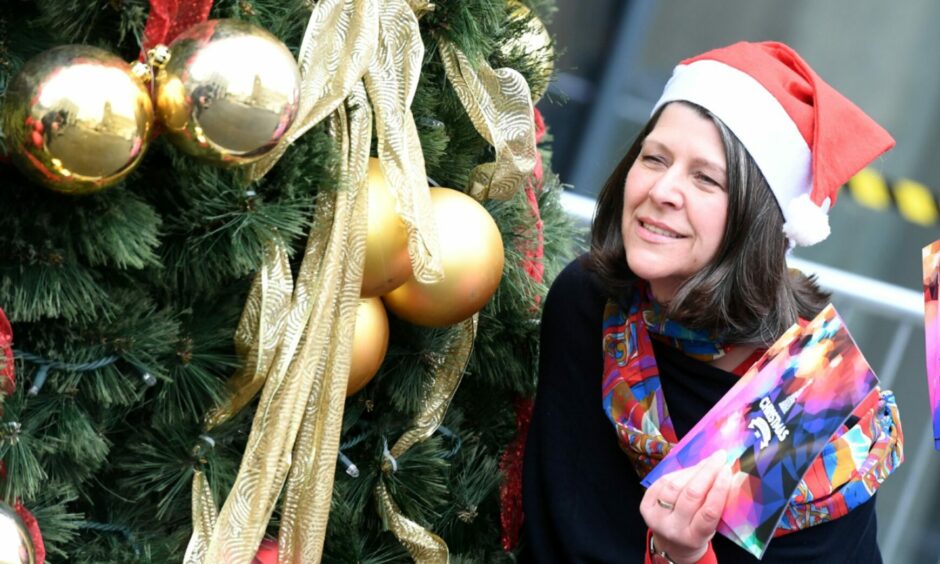 She added: "I remember at Christmas time, my mum would give me a catalogue and say what would you like from Santa?
"And we would go through and mark out every single thing in the clubby.
"But actually when Christmas Day came and we opened what we got from Santa it wasn't the whole raft of things that we had aspired to.
"And the next day, did we worry? No. We would have worried if we didn't have clothes on our back or food on the table.
"And these are the real questions we need to begin to ask."
Predictions of Aberdeen councillors 'throwing hands up in budget horror'
Mrs Stewart argued the city was not yet ready for the beach improvements, as cracked pavements were hospitalising her constituents.
She herself fell over face-first on Rosemount Viaduct, so knows firsthand the dangers posed.
Mrs Boulton added: "Next year when the budget comes, we will all throw our hands up in horror – 'Oh what are we gonna do?
"'We're having to close more libraries! We will have to close more sporting facilities!'
"This is why. We are making decisions that look nice and shiny on the outside.
"But if you look behind it there are a lot of difficulties we are going to face because of them."
Her calls for scrimping were a distant third choice, causing Mrs Boulton and Mrs Stewart to lodge dissent as the £48m plans progressed.
Counter: Aberdeen needs to make the most of beach beauty 'luck'
But Liberal Democrat council co-leader Ian Yuill said the city needed to "use the luck of having the beach and invest" in the Aberdeen masterplan.
---
Naughty or nice: Do you think the council is right to splash so much cash? Let us know in our comments section below
---
He pointed to multi-million-pound investment in Union Street which began under Mrs Boulton and Mrs Stewart's time in administration.
Mr Yuill also shook off criticism of the city's roads and pavements.
"Gently," he told the independents: "There have been five months of a roads budget which the Liberal Democrat and SNP partnership supported.
"It is significant extra investment. And my understanding is we have maxed out local capacity.
"Quarries producing material can't cope with any more work."
Whether the local authority is setting itself up for a trip and fall is yet to be seen.