There are fears blind and deaf people could be scared away from Aberdeen's Union Street for good if a huge new cycle lane goes ahead as planned.
A final decision on the proposals was delayed as councillors rowed today.
The two-way cycle lane on the north side (Music Hall side) of Union Street was initially backed by the SNP and Liberal Democrat administration.
That came despite disability campaigners forcefully making their safety concerns known.
Those looking to board buses would face crossing the cycle lane, reliant on cyclists to stop at pedestrian crossings to "bus islands".
But the disputed segregated bike lane was drawn up following pleas from cycling enthusiasts, who claimed negotiating the bus-only strip was like "fleeing Terminator".
A procedural squabble led by Aberdeen Labour, who demanded all councillors have a final vote, means that the future of the Market Street to Bridge Street stretch remains in limbo.
However, now the council's urgent business committee will have the final say on Friday.
If approved, the central Union Street cycle lane will eventually form part of a similar lane up the length of the city's main street.
Plans to continue it to the west and eastwards to the Castlegate, and possibly towards the beach, are already being formulated.
'VOOM!' Union Street cyclists could 'shatter' confidence of visually impaired
Graham Findlay, who walks with a cane due to having less than 10% of his vision, urged councillors to think again, again.
Chief executive of North East Sensory Services (Ness), he warned that those with mobility issues, visual impairments or hard of hearing were at risk of having their confidence "shattered" by the plans.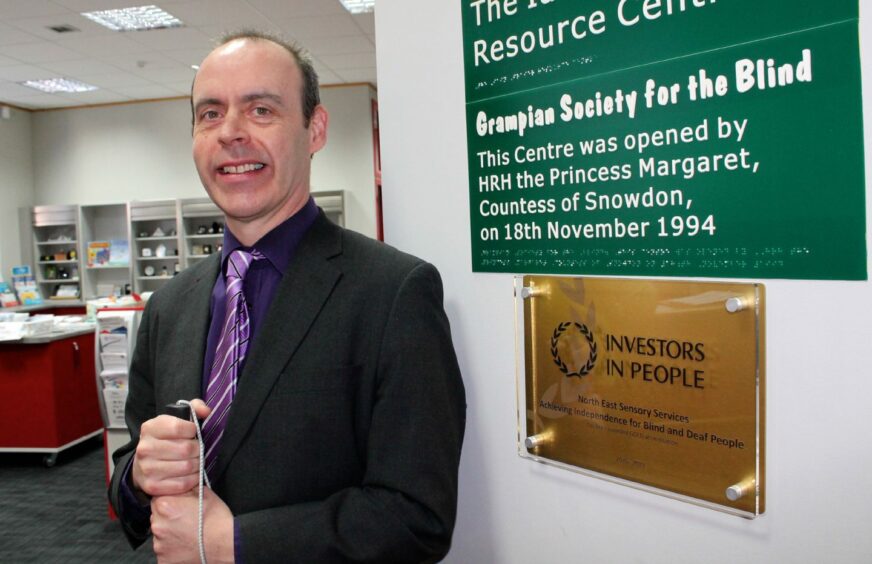 "From personal experience, I have had a number of close shaves with cyclists on Union Street.
"One springs to mind, in which the cyclist themselves would have had a really nasty accident if I was halfway across.
"The green man was on, I was halfway across the street and a cyclist went VOOM right past me.
"I didn't see him. I have a narrow tunnel vision. He was there and then gone.
"Half a step and my cane would have probably have been through his spokes and I'd have probably had a broken wrist and god knows what damage he would have done.
"These incidents scare the life out of you and knock your confidence."
He rates himself as fairly competent at independently moving around the city centre.
But he warned an experience like that "could be it" for a less confident visually impaired citizen.
"They might not go without a sighted guide again."
'Design disables people,' campaigner warns ahead of Union Street cycle lane vote
His charity helps some of the 2,500 blind and deaf people they are aware of in the north-east.
Libby Hillhouse, speaking for the Disability Equity Partnership as well as Ness, added: "The design of a space disables someone rather than the inherent different ability that they have."
She said the change could leave differently abled people in "constant anxiety".
Road designers said measures like signalled countdowns, chicanes and narrowing of bike lanes before crossings could mitigate the concerns.
They also plan to have rumble strips, like those approaching roundabouts on high-speed roads like the A90 Aberdeen bypass, to encourage cyclists to slow down.
Raised kerbs – vital to those navigating with guide dogs or long canes – can also be included.
'Wild West', balaclava-clad cyclists a risk on Union Street
But Mr Findlay feared "Wild West" cyclists would continue to fly up and down Union Street, ignoring measures to make it a safer and more pleasant place to be.
Council co-leader Ian Yuill suggested to both Ness speakers that all cyclists were being held accountable for the actions of the rogues.
He intimated that motorists would not be asked to apologise for the actions of lawbreaking drivers in the same way.
But Aberdeen Cycle Forum chairman Gavin Clark admitted there was an issue on the Granite Mile.
"For the avoidance of doubt, I acknowledge the city centre currently has an issue with illegal electric mopeds.
"These may be masquerading as cyclists… but they are not, in my view and in the law."
Aberdeen Cycle Forum: 'Compromise needed on all sides'
He said those road users should not be allowed access to the two-way segregated cycle lane, which his forum supported despite not being their first choice.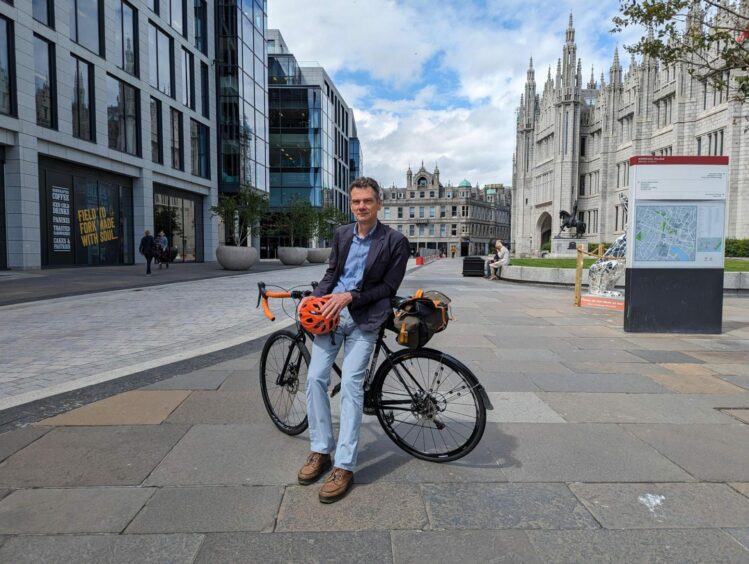 "Given the other constraints on Union Street, we are told it is really the only feasible option for segregation.
"The key is this cycle track will be segregated, keeping cyclists separate from vehicular traffic and pedestrians.
"It would be a big step in the right direction and could hopefully be the start of a high quality network of segregated routes.
"Cycling should not be the preserve of a hardened minority, or middle aged men, who are inured to cycling in heavy traffic."
Mr Clark highlighted the economic benefits of better cycling infrastructure in the city centre. And he pressed home the impact it could have on the health of residents, easing the NHS.
His main reservation was cyclists having to cross back to the south (Trinity Centre) side of Union Street at the end of the cycle lane.
The chairman pledged that forum members would help to educate cyclists as to how to safely manoeuvre through the chicanes.
"Members are responsible cyclists."
"But some of the behaviour I witness around the city… some – probably – young person, dressed in black with a hood up and maybe a balaclava doing a wheelie, are not members of our cycle forum and they are very difficult for us to influence."
Union Street central work worth £5m a year
A preferred contractor is expected to be named for the £20 million revamp of the Market Street to Bridge Street strip by the end of 2023.
Previously, it had been hoped the 15-month work could begin in August.
Council chiefs predict a £5m-a-year boost for the city economy once the project is completed.
Work could now begin in January.
Union Street empty shop grants approved
The plans are part of far wider work to regenerate Aberdeen city centre.
A £150m masterplan is being drawn up for the area, as well as the seafront.
And officials warned indecision on the Union Street cycle lanes could hit council coffers.
Masterplanner Sandy Beattie said: "With any delay in any project, there will be a cost.
"Construction inflation is only going one way so any delay costs us more money.
"I can't quantify how much until we know what the delay looks like. But it certainly will cost the council not to make a decision."
That will include a £50m market, which the council last month released fresh images of.
Plans for a new £500,000 scheme of grants to entice start-ups into empty Union Street shops progressed on Wednesday too.
The local authority will pay up to £35,000 to cover half the cost of doing up premises.